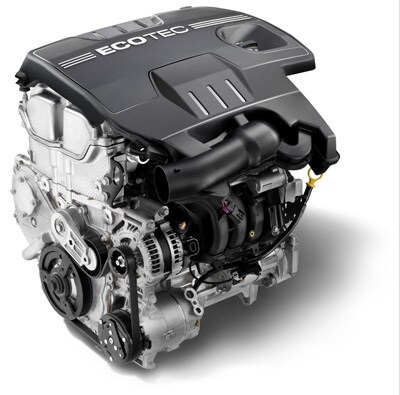 Engine Repair Parts and Replacement - The Power to Make a Difference
Count on the original equipment part when you're looking for a quality part including engine repair parts or a whole engine replacement for your Chevrolet. Take advantage of over 100 years of automotive manufacturing experience by purchasing your replacement engine through Murray's, and rely on our Certified Service technicians that know your Chevrolet best to install it properly.
Murray's has the second-largest parts department in Western Canada, and you can be confident that the genuine GM parts engine built for your Chevrolet will function as originally designed and engineered.


How Parts Work and Signs of Wear: HVAC and Engine Cooling Parts

| | |
| --- | --- |
| Accumulator/Drier: The accumulator in your vehicle gathers and stores liquid refrigerant until it's converted into a gas refrigerant. | Sign of wear: Lack of or insufficient cooling in cabin |
| Compressor: The compressor compresses refrigerant. The compression leads to a change in the refrigerant's boiling point that helps create the cold air that's delivered through the HVAC system.            | Signs of wear: Lack of or insufficient cooling; excessive clicking sounds or unusual noises during A/C operation |
| Water pump: The water pump is responsible for circulating engine coolant through the radiator and engine system to help maintain optimal engine operating temperatures. | Signs of wear: Engine overheating; leaking coolant |
| Condenser: The condenser cools refrigerant gas back into a liquid state. | Sign of wear: Reduced cooling capacity in vehicle cabin due to physical damage or debris |
| Blower Motor: Drives air through the HVAC system and into the cabin.     | Signs of wear: Engine overheats; fan doesn't turn; poor A/C performance |
| Compressor clutch: A critical component of your HVAC system, the compressor clutch engages and disengages your compressor. | Signs of wear: Reduced cooling in vehicle interior; noise when running A/C system; rubbing/grinding noise |
| Engine cooling fan: The engine cooling fan, located behind your radiator, draws cool outside air through the condenser and radiator at low-speed operation to cool the engine.    | Signs of wear: Engine overheats; fan doesn't turn; poor A/C performance |
| Expansion Valve: Restricts the flow of refrigerant, allowing it to change from a high-pressure liquid to a low-pressure gas, which provides the cooling effect of A/C. | Sign of wear: Lack of cooling in cabin |
| Evaporator: Warm air from inside your vehicle is delivered to your evaporator. Moisture and heat are then removed from the air and returned to your cabin. | Sign of wear: Lack of cooling in cabin |
| Heater core: Hot engine coolant from the cooling system circulates through the heater core to provide warm air to the passenger compartment. | Signs of wear: Sweet smell coming from vents; insufficient heat from vents; wet carpet on passenger side |
| Radiator: Engine coolant flowing through the radiator is cooled by wind and the radiator fan helping to keep the engine within proper operating temperatures. | Signs of wear: Leaking (often a bright green colour); engine overheats; sweet smell |
| Thermostat: Regulates the temperature of the enging coolant to maintain proper engine operating temperature.    | Signs of wear: Engine overheats; reduced fuel economy; insufficient heat in cabin |