GM Preferred Pricing Program | Winnipeg Manitoba
GET YOUR NEXT CHEVROLET AT DEALER COST!
GM wants to show their appreciation to eligible employees by offering the exclusive Preferred Pricing Program! Your affiliation with Murray Chevrolet gives you the exclusive opportunity to buy or lease an eligible new Chevrolet at a preferred price. Employees of Preferred Pricing companies have the opportunity to receive the best price - and you can save even more by combining this discount with our retail offers, GM Card allowances, student bonus programs, and Canadian Forces Appreciation Discount! As an eligible employee, you have the opportunity to receive the best price - period - and pay no more than dealer price on an eligible new Chevrolet.
Register Here to Confirm Your Preferred Pricing.
Not sure if your company qualifies for a Preferred Discount? No worries, simply follow the link below and search our company directory.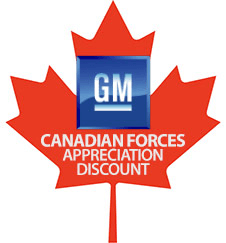 In recognition of the selfless acts of service to our country, enjoy an upgraded Canadian Forces Appreciation Discount of $1,000 on select Chevrolet vehicles! All active, reserve, and veteran military personnel and their spouses are eligible. This offer can be combined with our other discounts and programs to really add up the savings!
Learn more about this program here.
As well as Preferred Pricing, you can use your GM Card Earnings (subject to Vehicle Redemption Allowances) to save even more on an eligible new Chevrolet!
Soon-to-be or recently graduated? Take advantage of our Student Bonus offer and get $500 off a new vehicle!
Learn more about this program here.
*Eligible Preferred Pricing employees can purchase an eligible new GM vehicle at a price that is equal to or less than dealer price. Dealer price is defined as the dealer's price of the base model vehicle, plus options and dealer marketing charges as shown on the invoice. This calculation excludes taxes, license and registration fees, insurance, personal property registry fees and freight charges. Dealer may sell for less. Model restrictions may apply. See dealer for all program details. GM may modify or terminate this program in whole or in part without notice.