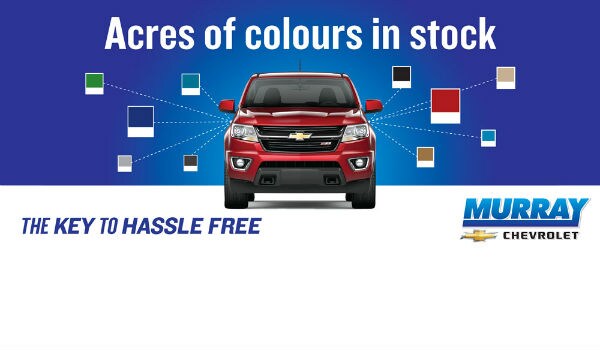 When it comes to purchasing a new vehicle, there are a number of considerations that go into finding the right one for you. Is is safe? Is it reliable? What technologies does it come with? But have you considered that the perfect vehicle could be the one that comes in the perfect colour? Well, thanks to the new service by Murray Chevrolet, you can now get the best out of your new vehicle shopping. You can now search for new vehicles by color at www.hasslefree.ca and it will change the way you buy a new vehicle.
A new resource from all of us at Murray Chevrolet, the www.hasslefree.ca search tools are made readily available for all of those looking to get behind the wheel of a vehicle with a specific trait in mind. Whether you want a vehicle that has an touchscreen display, leather seating, or you want to see all the new Chevy vehicles we have that come in green, there is no easier way to shop than with the hassle free guarantee at Murray Chevrolet. You will be able to search for specific key phrases, finding vehicles that fit your needs whatever they may be.
The promising utility of shopping for a new vehicle at www.hasslefree.ca comes full circle when you consider how far the search reach is. You have the power to search for your ideal vehicle across the entire Murray Chevrolet inventory throughout the nation. You'll be able to find the perfect vehicle in the right colour across Canada at Murray Chevrolet. With over ten acres of inventory and more than 30 locations, the likelihood that we have the perfect vehicle waiting for you is only getting higher and higher.
It is not your job to settle for a vehicle when you are looking to upgrade, but it is our job to make sure that the key to hassle free is right here at Murray Chevrolet. We are always innovating, looking for new ways to make your vehicle buying experience the best that it can be. Do not hesitate to get in touch with our staff here in the greater Winnipeg area at Murray Chevrolet.