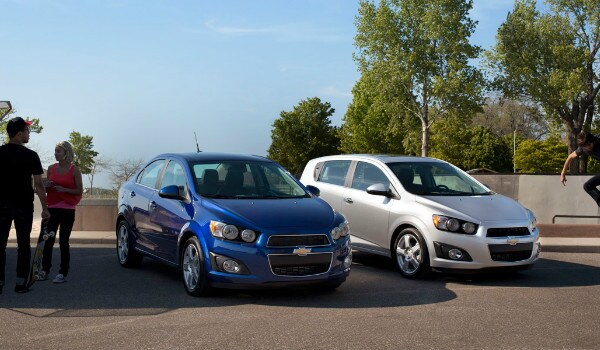 As we begin to reach the last of what the winter months have in store, there is no better time than now to get behind the wheel of a great small car thanks to the 2014 Chevy Sonic Clearout in Winnipeg MB at Murray Chevrolet. When it comes to might, sometimes it is best that you go light. Fun and practical, the 2014 Sonic just might be the perfect car for you.
Currently on offer at Murray Chevrolet in the new vehicle inventory is the 2014 Chevy Sonic, one of the best sub-compact vehicles on the market today. With 25 vehicles remaining today, that number is only going to decrease as we continue to push the pint-size vehicle. Available as both a sedan and a hatchback, the Sonic is fit for a number of different drivers and thanks to the great price and 5-Star overall safety rating, it makes for a great vehicle for first-time and teenage drivers.
The 2014 Sonic really begins to sell itself when you factor in the impressive fuel economy, powertrain options and available technologies. The available 1.4-litre turbocharged engine makes for an impressive 6.2 L/100km in highway mileage without having to sacrifice the fun of driving. The considerably small stature of the Sonic lets it utilise a smaller engine block and less power for more efficiency and plenty of agility. You will also find the cabin well-enough equipped to make every drive enjoyable for you and your passengers thanks to the OnStar 4G LTE WiFi in the cabin.
Here at Murray Chevrolet, the 2014 Sonic is not going to last long, so now is the time to get in touch with our staff to learn more. You can take a virtual test drive of the Sonic here and see how it fits your lifestyle. Theses great compacts will not be around forever, so get behind the wheel before they are all gone!