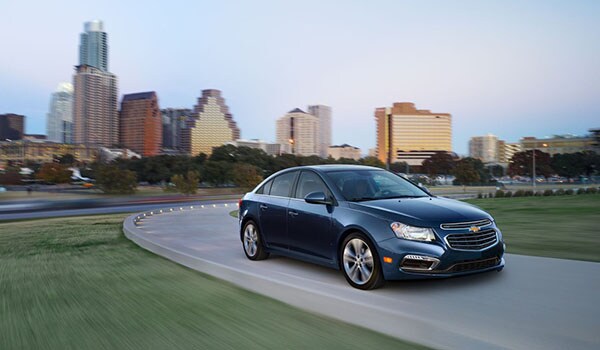 Here at Murray Chevrolet, we love the 2015 Chevy Cruze. It offers some of the best amenities you can ask for on a compact sedan and thanks to its brand-new turbo diesel engine, you are getting some impressive mileage as well. So, how far can the 2015 Chevy Cruze go on a single tank? Let us break out the map and see for ourselves.
Before we jump into the map, lets talk about the Cruze and what it is capable of. First of all, that diesel engine is going to get you an average of 6.4 L/100km and that is impressive. So when you combine that with the fuel tank size, you are looking at an average of 911 kilometers of travel distance on a single tank of gas, not too shabby. So where will that take you? Take a look.
Thunder Bay, ON - 704 km
Take a nice, long road trip and see one of the best coastal cities that Canada has to offer by visiting Thunder Bay, Ontario. Take in the sights and sounds of the open water and exacerbate your sense of adventure at places like Eagle Canyon and the Kakabeka Falls. All of which is well within reach of your 2015 Cruze.
Birch Island Resort, ON - 248 km
Get out into the great outdoors this spring and head on over to Reid's Birch Island Resort in Ontario. At just about 250 kilometers away, you can make the trip there and back with plenty of fuel to spare. Fish, dine, and enjoy the spectacular views as you spend your days out on the water and in the comforts of luxury and entertainment.
Minneapolis/St. Paul Minnesota, USA - 721 km
Dust off that passport and make your way into the United States to visit the Twin Cities. Well known for their involvement in the arts and entertainment community, there is something for everyone to enjoy. Hit up the art and history museums and enjoy the nightlife of the downtown Minneapolis atmosphere.
Wherever you decide to travel, know that you will be able to get there comfortably and in magnificent style when behind the wheel of the 2015 Chevy Cruze turbo diesel from us at Murray Chevrolet. We have plenty of great Chevy vehicles on offer, so feel free to experience the best vehicles on the market right here in Winnipeg MB.