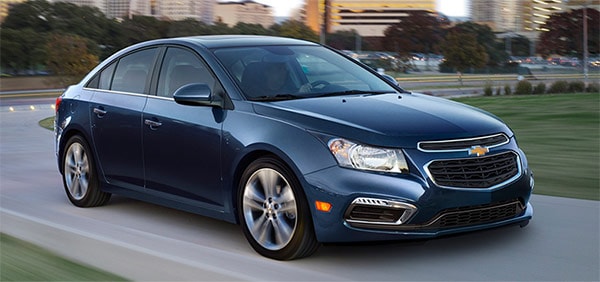 The 2016 Chevrolet Cruze Limited is a combination between style and efficiency. The 5 passenger sedan is capable of delivering 61 MPG (67 MPG with a diesel), fitting 15.1 cu. ft. of cargo, and delivering a sporty and fun driving experience.

Exterior
The exterior of the Cruze is designed to draw attention from those around you. The handsome classic Chevrolet split grille, refined front fascia, swept-back LED headlights (LT and LTZ models), and attractive wheel options are a few of the features that will have you, and so many others, finding it tough to take your eyes off it. Its curves are are not only appealing to the eye, but also improve aerodynamics, helping optimize fuel efficiency and getting the most out of every litre of gas.
RS Appearance Package
Those who wish to give their Cruze an even sportier look can opt for the RS package which is available on LT and LTZ models. With the RS package comes a rear spoiler, chrome wrapped headlamps, and unique front and rear fascias.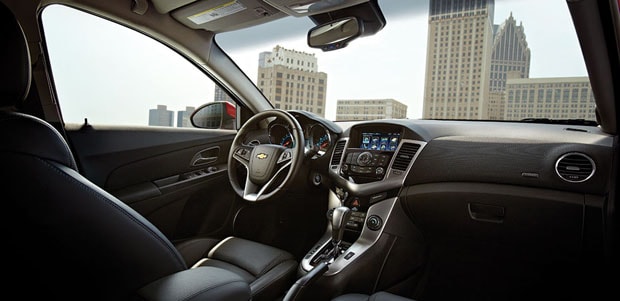 Interior
The interior of the Cruze, no different from the exterior, is designed with style in mind. Premium materials such as fabric accents, high end leather seats, and leather wrapped steering wheel are used to arouse passengers touch, while the intuitively designed center console, sleek interior lines, and attractive dash will arouse passengers sight. All of which come together for a perfect combination of sight and touch to give you the experience that a luxury sedan would.
The spacious interior of the Cruze is also designed to not only please passengers eyes, but also to give them a comfortable driving experience like no other in its class can offer. The laminated windshield, triple-sealed doors, and 30 acoustical treatments are all designed to keep outside noise from entering the cabin to give those travelling inside the Cruze a quiet and enjoyable ride.
Chevrolet MyLink

The Chevrolet MyLink system in the Cruze equips the vehicle with a 7-inch touch-screen LCD screen that allows you to browse AM/FM, SiriusXM satellite radio, and hook up your phone or mp3 player via Bluetooth or USB port. Once connected to the radio through your phone you can browse and listen to your personal library, or use apps like BringGo Navigatioin, TuneIn Radio, and Stitcher Radio.
Those that connect through Bluetooth can also speak on their phone without actually having to touch it, allowing you to keep your eyes on the road, increase safety, and avoid tickets.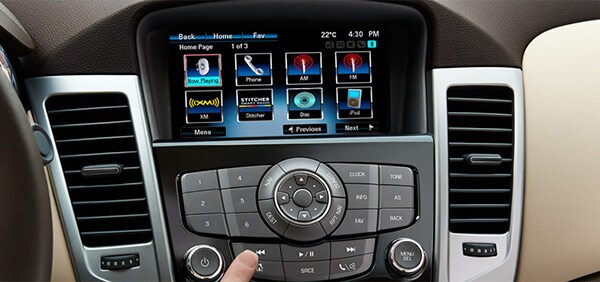 Pioneer Premium Sound System
The Cruze comes with an available 9-speaker, 250-watts, and high-frequency tweeter sound system in order to give you the best music listening experience available in its class.
OnStar
OnStar is General Motors creation designed to make your driving experience the best it can be. With features like hands free calling and turn by turn navigation drivers will never have to fidget around with maps or their phones while driving again. Not only does OnStar provide handy driving features, but it also gives its users safety features that no other car company can offer such as emergency crash response.

Standard Safety
The Chevrolet Sonic is fully equipped with safety features that help give it its class leading 5-Star Overall Vehicle Score for safety from NHTSA. These features include a steel safety cage, StabiliTrak Electronic Stability Control System, Traction Control, 4-wheel antilock brakes, 10 standard air bags, OnStar, and much more.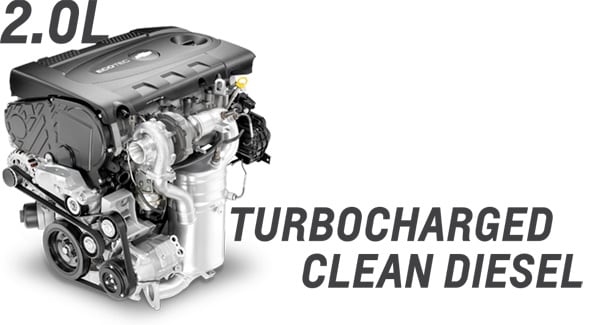 Chevrolet Cruze Clean Diesel
Available for the 2016 is the Cruze Clean Diesel. This Cruze features a 2.0L 4 cylinder engine with 151 HP and 264 lb. ft. of "low-end" torque that delivers the power of a V6 engine, and the efficiency of 4 cylinder allowing the vehicle to achieve a best in class 4.2L/ 100km on the highway. 
The Cruze diesel is incredibly engineered to meet the strict U.S. environmental standards and features technology such as exhaust gas recirculation, a particulate filter and advanced fuel system components, and selective catylyst reduction, all of which allow the diesel engine to generate 90% less Nitrogen Oxide emissions as well as a very small amount of particulate emissions. The engine, as clean as it is, is also impressively quiet as it reduces and eliminates noise and vibration that comes with other diesel vehicles.
Cruze Eco
The Cruze Eco features a 1.4L turbocharged engine that delivers 138 HP and 148 lb.-ft of torque, while achieving 4.6L/100 km. This is more efficient than vehicles like the Hyundai Elantra, Honda Civic, Ford Focus, and Toyota Corolla, as well as the regular Cruze which delivers a respectable 5.4L/ 100 km.