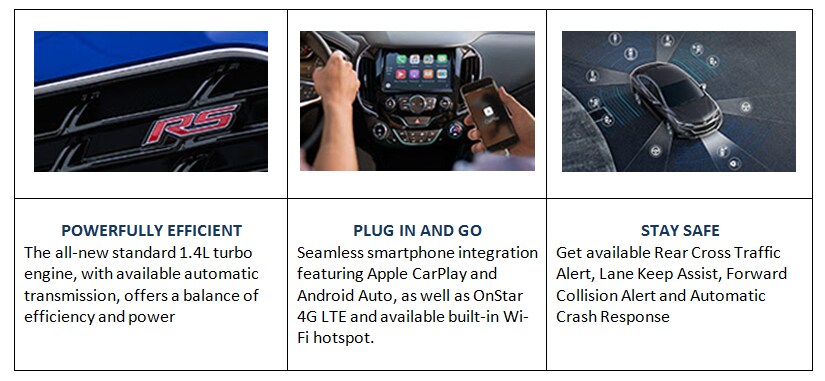 The All New 2016 Chevrolet Cruze                  
"The new Cruze is truly one of Chevrolet's most global vehicles," said Alan Batey, president of General Motors North America. The new Cruze is 2.7 inches longer than its predecessor. Most of the extra space provides additional rear-seat leg room. The new Cruze also gets about 40 miles per gallon from a 1.4L, 4-cylinder Ecotec turbo engine. 
It's also 250 lbs less than the 2015 model, thanks to an aluminum engine block and a new process of steel making. 
You'll also have the option of Android Auto or Apple CarPlay - telematic systems that replicate most of the icons on your smartphone!
The new Cruze takes a leap forward in safety technology, too. There are 10 air bags, a side blind zone alert, rear cross traffic alert, lane departure alert and forward collision alert. All sensor-enabled steps down the road to autonomous driving. 
On the infotainment front, there will be a 7-inch diagonal screen standard, on which the next iteration of Chevrolet MyLink will be displayed as well as Android Auto. Apple loyalists who want the CarPlay option will be able to get an 8-inch screen.
See How The Cruze Pairs Up With Its Competition!